Top 5 Reasons First-Time Home Buyers Should Consider Buying a Home in the Denver Metro Area (And a Bonus Tip!)
Posted by Listing + Marketing Manager VWP on Wednesday, June 21, 2023 at 11:15 AM
By Listing + Marketing Manager VWP / June 21, 2023
Comment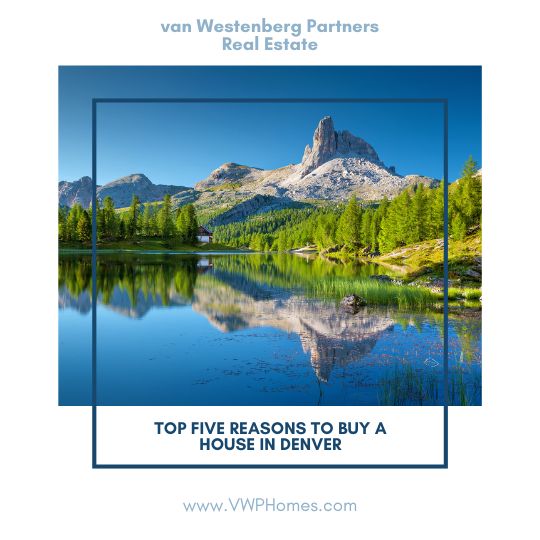 Are you a first-time home buyer looking for the perfect place to settle down? Look no further than the Denver metro area! With its vibrant culture, booming economy, and stunning natural beauty, Denver offers a plethora of opportunities for those seeking to invest in their first home. In this blog post, we'll explore the top five reasons why first-time home buyers should seriously consider purchasing a home in the Denver metro area. Plus, we'll reveal a bonus tip that could make your home buying journey even smoother! Let's dive in.
Strong and Diverse Economy: One of the primary reasons to consider buying a home in the Denver metro area is its robust and diverse economy. Denver has experienced consistent economic growth, attracting numerous industries such as technology, healthcare, finance, and energy. The presence of major corporations and a thriving entrepreneurial spirit means ample job opportunities and a stable economy, making it an ideal place for first-time home buyers to establish themselves professionally and financially.

Unbeatable Outdoor Lifestyle: Denver is renowned for its breathtaking natural beauty and an abundance of outdoor recreational opportunities. Nestled near the Rocky Mountains, the area offers an array of activities including hiking, skiing, mountain biking, and camping. The city's extensive network of parks, trails, and open spaces ensures that residents can enjoy an active and healthy lifestyle all year round. If you're a nature enthusiast or seeking a vibrant outdoor community, Denver is the perfect place to call home.

Vibrant Cultural Scene: Denver boasts a vibrant and diverse cultural scene, making it an attractive destination for art, music, and food lovers alike. The city is home to numerous museums, galleries, and theaters, showcasing a wide range of artistic expressions. With a thriving live music scene and a burgeoning culinary industry, Denver offers a rich cultural experience that is sure to captivate and inspire you. Immerse yourself in the city's vibrant cultural tapestry by becoming a homeowner in the Denver metro area.

Excellent Education Opportunities: For first-time home buyers with families or those planning for the future, Denver's educational offerings are second to none. The city is home to a range of top-rated schools, including both public and private institutions. Additionally, Denver houses several esteemed universities and colleges, providing exceptional higher education opportunities. Investing in a home in the Denver metro area means securing access to quality education for yourself and your loved ones.

Booming Real Estate Market: The Denver metro area boasts a thriving real estate market, which is particularly advantageous for first-time home buyers. While property values have steadily appreciated over the years, the market remains relatively affordable compared to other major cities in the United States. This makes it an opportune time to enter the market and secure a home that not only meets your needs but also has the potential to appreciate in value over time. Take advantage of the thriving real estate market in Denver and make your dream of homeownership a reality.
Bonus Tip: Call Ali van Westenberg, Your Trusted Real Estate Partner directly at 303-601-0260! When embarking on your home buying journey in the Denver metro area, having a knowledgeable and reliable real estate agent by your side can make all the difference. Ali van Westenberg is a seasoned real estate professional with extensive experience in the Denver market. With her in-depth knowledge, personalized approach, and commitment to exceptional service, Ali can guide you through the entire process, ensuring a smooth and successful home purchase. Give Ali a call today to get started on finding your dream home!
See Our Contact Information
Contact Us for any questions about the Denver Real Estate Market!