Steps to Take Now to Buy and/or Sell a Home in 6 Months!
Posted by Listing + Marketing Manager VWP on Friday, October 6, 2023 at 11:44:59 AM
By Listing + Marketing Manager VWP / October 6, 2023
Comment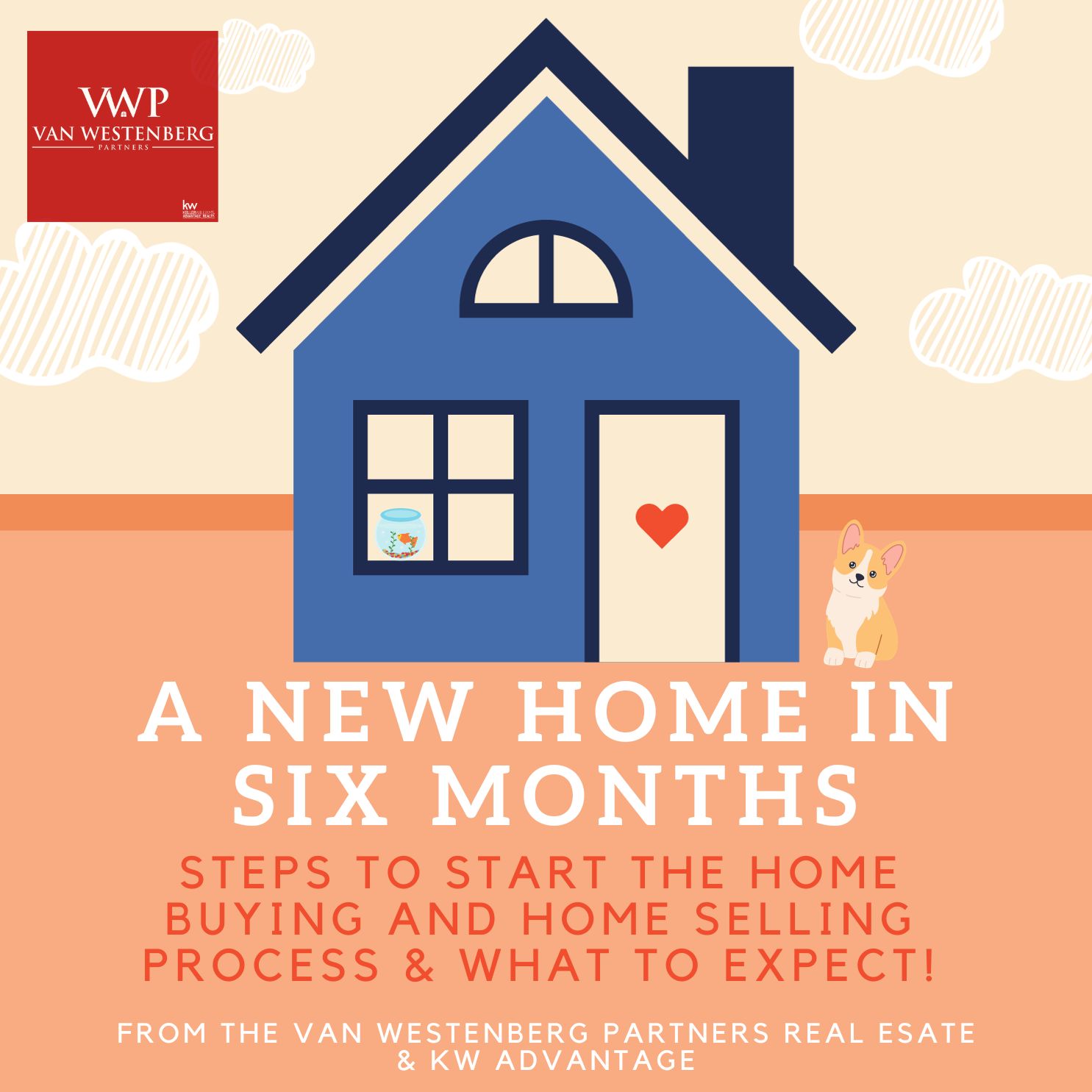 Even in today's market, buying or selling a home is a wonderful step that can be made even better with a little planning, especially if you want to buy and sell at the same time! This planning and preparation will help you understand what to expect and allows us time to research the mortgage options and money-saving solutions.
At Van Westenberg Partners, we understand the unique challenges of buying a home and we're here to help. With 31 years of market knowledge, local connections, contract negotiations, listing specialists, buyer specialists, and in-depth area knowledge, we have the expertise to guide you through the process.
Assess Your Financial Situation: Before diving into the home-buying process, it's crucial to have a clear understanding of your financial situation, even for cash buyers. You do not want to overpay on insurance and other buyers expenses because of an unknown credit snafu. Review your credit score, your open accounts, savings, and monthly expenses. This will help you determine how much you can afford or want to invest and whether you should work on improving your credit score before applying for a mortgage. You may even catch unnecessary monthly subscriptions!
Speak to Van Westenberg Partners First: Contacting Van Westenberg Partners early in your home-buying and home-selling journey can really help! Our team of experts can provide valuable insights into the selling and buying timelines, trusted home service vendors, local market trends and neighborhoods to watch. Our agents can help you find the real value of your home through research of real time sales. We can also help set you up on automatic new listing alerts and E-blasts so you don't miss your perfect home match! Sign up for free (and ad free)to save your searches HERE
Let us Help You Coordinate Sale and Purchase Timelines: When selling your current home and buying a new one concurrently, it's crucial to carefully coordinate the timelines. Work closely with your realtor, Van Westenberg Partners, to ensure that the sale of your existing home aligns with the closing date of your new home. Proper coordination can help avoid potential gaps in housing and ensure a smoother transition from one property to the next.
Declutter and Home Maintenance: Six months before your planned move-in and/or move out date, start decluttering and organizing your current space. Donate or sell items you no longer need to lighten the load for your upcoming move. A clutter-free home is easier to sell, and it will make your transition to a new home smoother. Put any overdue inspections, maintenance or cleaning for furnaces, radon, sewer, paint, carpet, fences etc. on your to-do list. These will most likely be inspected by a buyer and it's easier to get a head of it over several months rather than all at once.

Reduce High-Interest Debt: High-interest debt, such as credit card balances, can significantly impact your ability to secure a mortgage with favorable terms. Consider a strategy to pay down or consolidate high-interest debts to improve your creditworthiness and increase your chances of obtaining a lower-interest mortgage, especially in a high-rate environment. This can save you money over the life of your loan and make homeownership more affordable. Also put off any large purchases until after closing!

Always Get Pre-Approved for a Mortgage with a Local Trusted Lender: In a high-interest rate environment, getting pre-approved for a mortgage is essential. It not only helps you understand your budget but also demonstrates to sellers that you're a serious buyer. Many mortgage lenders can lock in a rate for you for a set period of time while you look. We can connect you with trusted mortgage lenders who can offer competitive rates and help you secure financing.

Know the costs involved: Familiarize yourself with the costs of buying a home and the costs of selling a home. Consider maintenance, and cleaning before going on the market to sell and the down payment, monthly mortgage payments, property taxes in the area you want to buy, insurance, and maintenance costs. This will ensure you're financially prepared for homeownership. We can help you understand the costs.

Stay Informed and Reassured: Given the current real estate landscape, it's natural to have concerns about buying a home. Rest assured that Van Westenberg Partners is here to guide you every step of the way. We stay up-to-date with market changes and can help you make informed decisions that align with your goals and budget.
Don't let high-interest rates deter you; our experienced team is here to provide the expertise and reassurance you need to make your dream home a reality. Contact us today to start your journey toward owning a home in these beautiful Colorado neighborhoods.
Don't let high-interest rates deter you; our experienced team is here to provide the expertise and reassurance you need to make your dream home a reality. Contact us today to start your journey toward owning a home in a beautiful Colorado neighborhood!
Phone(303) 601-0260

Email[email protected]

Address Van Westenberg Partners | Real Estate
152755
Keller Williams Advantage Realty
165 S Union Blvd, Ste 250
Lakewood, CO 80228
Contact Our Locally Based Team to Get Started