7 Important Considerations Before Downsizing and Listing Your Home in the Denver Metro Area
Posted by Listing + Marketing Manager VWP on Tuesday, June 20, 2023 at 2:39:56 PM
By Listing + Marketing Manager VWP / June 20, 2023
Comment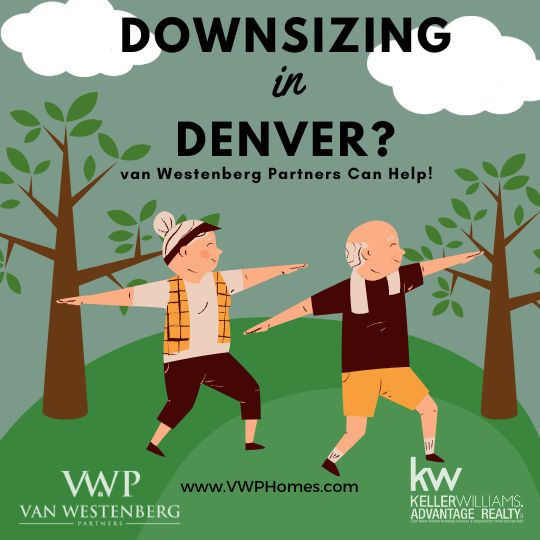 As empty nesters embark on a new chapter in their lives, downsizing and listing their home can be a significant decision. The Denver metro area offers an array of possibilities for those seeking a change. However, before taking the leap, it's essential to consider several factors that can help ensure a smooth transition and successful sale. In this blog post, we'll discuss seven key considerations for empty nesters looking to downsize and sell their home in the Denver metro area!
Evaluate Your Goals and Lifestyle: Before starting the downsizing process, reflect on your future goals and the lifestyle you wish to lead. Consider factors such as proximity to amenities, preferred neighborhoods, transportation options, and accessibility to medical facilities. Determining your priorities will help you narrow down your search and find a home that aligns with your needs and desires.

Assess Your Financial Situation: Downsizing can have significant financial implications. Evaluate your current financial standing, including your home equity, mortgage balance, and retirement plans. Consider consulting with a financial advisor to understand the financial implications of downsizing, such as tax implications, potential savings, and investment opportunities. A clear understanding of your finances will help you make informed decisions throughout the downsizing process.

Understand the Local Real Estate Market: To ensure a successful home sale, it's crucial to have a solid understanding of the Denver metro area's real estate market. Research recent sales trends, property values, and market conditions. Work with a knowledgeable real estate agent who specializes in the Denver metro area, like Ali van Westenberg, to gain insights into the local market dynamics and determine the optimal listing price for your home.

Declutter and Organize: Downsizing often requires letting go of belongings that may no longer serve a purpose in your new home. Start decluttering early and prioritize items based on their sentimental value and usefulness. Consider donating, selling, or gifting items that you no longer need. Organizing your belongings will not only make the moving process more manageable but also help stage your home effectively for potential buyers.

Plan for the Transition: Downsizing involves not only moving to a new home but also adapting to a different living environment. Consider factors like the layout of your new home, accessibility features, and lifestyle adjustments. Create a transition plan that includes details such as moving timelines, packing strategies, and necessary renovations or repairs. Being prepared will alleviate stress and make the downsizing process smoother.

Seek Professional Assistance: Navigating the downsizing and selling process can be complex, especially for empty nesters who may not have recently experienced a real estate transaction. Engage the services of an experienced real estate agent who can guide you through the entire process. Ali van Westenberg, a reputable real estate agent in the Denver metro area, has a proven track record of helping clients successfully downsize and sell their homes. With her expertise, you can benefit from personalized advice, extensive market knowledge, and exceptional negotiation skills.

Call Ali van Westenberg! When it comes to downsizing and listing your home in the Denver metro area, a skilled real estate agent like Ali van Westenberg can be your greatest ally. With her comprehensive understanding of the local market, she can provide tailored guidance, expert marketing strategies, and a seamless selling experience. Reach out to Ali van Westenberg today to embark on your downsizing journey with confidence. Call Ali directly at 303-601-0260 or email to [email protected]
Downsizing and listing your home in the Denver metro area as empty nesters can be an exciting new chapter in your life! Let the experience and professionalism of Ali van Westenberg and the van Westenberg Partners help make this transisiton a breeze!
Feel free to reach out directly by phone or email, or complete the form below for a free Market Anlysis for your home!
Free Market Analysis for Your Home!